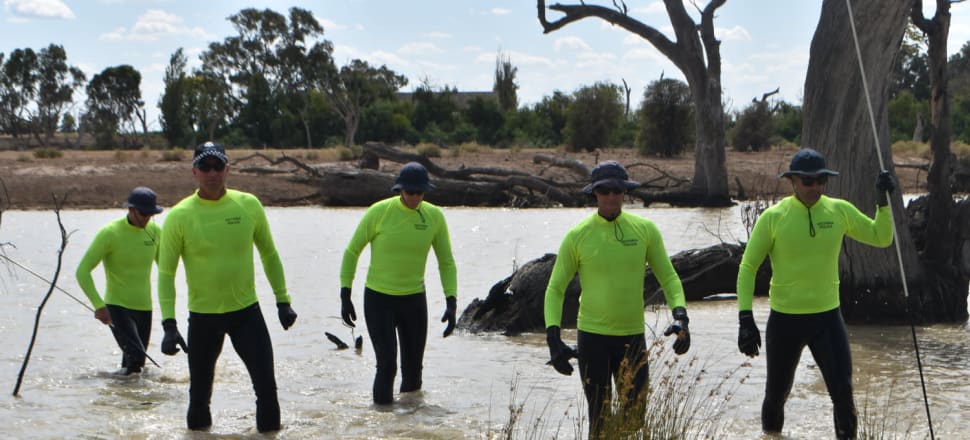 5370537724001
A LEITCHVILLE man has been found dead in Gunbower's Kow Swamp.
Five Melbourne-based Search and Rescue Squad divers and two Victorian Water Police officers spent Monday and much of today trawling through Mount Hope Creek after Michael Allitt crashed a stolen car into it early Saturday.
The farmer on the private property at Gunbower-Pyramid Rd found the body 1km from the crash site about 2.30pm after police had called off their search.
According to police, family of the 49-year-old father-of-two has been notified and the coroner is on the way to the scene.
Police were called to the crash at 4am Saturday, where they arrested a woman in her 40s, who told them Allitt was driving the vehicle.
"He and the female were in a car and decided to go for a drive to Kow Swamp. We believe he was possibly affected by drugs at the time and he drove through six fences and two gates on the farming property," Senior Constable Scott Newton of Campaspe criminal investigation unit said..
Snr Const. Newton said the blue Toyota HiLux drove across a paddock and almost landed in the creek further down, before slamming through another fence, driving through some scrub and finally hitting the water.
"It has hit a stump, obviously at a fair bit of speed, because they've ended up 5-6m out into the water," he said.
After hearing all the commotion, the farmer called 000, with Pyramid Hill, Gunbower and Cohuna police first on the scene.
"When they arrived there was a female here who said (Allitt) was the one driving and that they'd ended up in the water, and for some reason he's said 'I'm going to swim across the other side', not knowing where it was because it was dark and there were no headlights on the car," Snr Const. Newton said.
"The last thing she can tell us is that he went into the water and she presumed he would yell out when he got to the other side and she never heard from him again."
With checks revealing the car was stolen, the uninjured woman was arrested, charged and bailed and will appear in Echuca Magistrates Court on April 24.
During the search, Snr Const. Newton said there was no evidence, including footprints, to suggest Allitt had come out of the water and he hadn't made any contact with family or friends since the crash.
"The concerning thing is we knew his phone was on and the last time we got a phone signal from him was the time he entered the water and his phone hasn't been found," he said.
Melbourne Search and Rescue Squad diver Sergeant Mark Braun said there was zero visibility in the creek.
"You can't see anything, it's all by feel," he said.
"It's a muddy bottom, lot of snags, lot of stumps and trees and reeds so it's fairly hard going in there."
By the time the search had been called off, divers had covered at least 500m of the particular section of creek where Allitt was last seen.
"Side by side, shoulder to shoulder, we've covered 90 to 100 per cent of the area," Sgt Braun said.
Two water police officers also searched Kow Swamp, which the creek empties into, by boat.
"It's a really large waterway, so a minimal area of Kow Swamp has been searched," Sgt Braun said.
"From our understanding from local police we've been targeting a certain location in the creek though."
A police diver for 10 years, Sgt Braun said he had recovered too many bodies to remember over that time.
"I look for people who are lost or missing all over the state, trying to locate them in places like these waterways," he said.
"Sometimes we find people and it's too late; they're deceased, which is hard for families and friends."
The half-submerged Hilux, stolen from Melbourne in 2018, was pulled out of the creek on Saturday and returned to its owner.
"It had front-end damage but I'd say it'd be close to a write-off," Snr Const. Newton said.
While Mr Allitt was known to police, he was not wanted for any outstanding criminal matters.
"Whether or not he knows he was driving a stolen car that's crashed and that could be the cause of why, we don't know," Snr Const. Newton said before he was found.
Snr Const. Newton said an autopsy would be carried out.
"It's now a matter for the Coroner," he said.
"It's not a criminal investigation. It's a tragic accident most likely caused by drowning."